A rise ininfectious-disease cases due the highly contagious delta variant, heavy criticism over the rushed U.S. evacuation of personnel and allies from conflicts and an increase in economy" target="_blank">inflation<'s approval rating among Americans.
The president stands at 49% approval and 48% disapproval according to an NBC News poll released on Sunday. That's a drop from Biden's 53% approval and 39% disapproval from an NBC News survey conducted in April.
BIDEN TO ADDRESS AFGHANISTAN EVACUATION DURING SUNDAY ADDRESS TO THE NATION
Biden's approval rating dropped under 50% for the first time in NBC News polling. The president's approval rating stood at 49% approval – 48% disapproval in a Gallup poll conducted Aug. 2-17.
Just a quarter of those questioned in the NBC News survey, which was conducted Aug. 14-17, said they approved of the job Biden was doing handling the situation in Afghanistan, with 60% disapproving.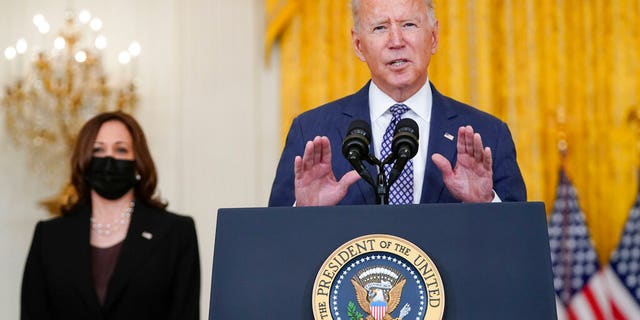 President Joe Biden speaks about the evacuation of American citizens, their families, SIV applicants and vulnerable Afghans in the East Room of the White House, Friday, Aug. 20, 2021, in Washington. Vice President Kamala Harris listens at left. (AP Photo/Manuel Balce Ceneta)
(AP Photo/Manuel Balce Ceneta)
The president rushed U.S. troops to the airport in Kabul after the Afghan government and military collapsed and repressive Taliban forces quickly took over Afghanistan's capital and largest city amid a final U.S. troop withdrawal from the war-torn central Asian country.
CLICK HERE TO GET THE FOX NEWS APP
The president's approval rating on combating the coronavirus pandemic stood at 53% in the new survey, down from 69% approval in April. And Biden stood at 47%-49% on handling the economy, down from 52%-43% in April.
A thousand adults, including 790 registered voters, were questioned in the NBC News poll. The survey's overall sampling error was plus or minus 3.1 percentage points.