A chicago" target="_blank">Chicago< has reportedly deployed more than 1,000 wild-nature" target="_blank">feral cats<.
The Windy City topped pest control company Orkin's 2020 Top 50 Rattiest Cities List for the sixth time last year.
HOUSTON TIGER ROAMING NEIGHBORHOOD EVOKES MEMORIES OF 400-POUND TIGER FOUND LIVING IN HARLEM APARTMENT
Tree House Humane Society's Community Cats Program Manager Sarah Liss told Fox News on Thursday that the organization had noticed the cats making a positive difference on Chicago streets even before the inception of the Cats at Work program.
She said that the rat population was "significantly decreasing and even going away for a lot of folks who [were] taking care of [the] cats," which is when Tree House "put two-and-two together."
Cats at Work was initiated in 2012 in an effort to both combat the issue using an environment" target="_blank">"environmentally friendly"< – are placed two or three at a time into residential or commercial settings under the care of a registered caretaker.
The cats acclimate in confinement for a period of three weeks before their release.
Tree House says on its website that the feral felines in Cats at Work colonies would not be able to thrive in a shelter or home environment and needed to be relocated for various reasons.
OHIO FALCONERS CAN USE OWLS FOR HUNTING, NEW LAW SAYS
"Feral cats can't come inside and live the life of an indoor cat. They tend to be either extremely destructive because they're trying to escape the indoor environment or they hide constantly. They just don't do well indoors," Liss said. "So, when a feral cat has to be removed from the environment that they're used to living in, there really aren't any positive options for that. It's either that they get moved to a new place or – unfortunately – they would need to be euthanized because there isn't an indoor option for them."
She said trying to force the feral cats to stay inside would be "extremely inhumane."
"Having this second chance to get moved to a new location, having a caregiver that cares about them and wants to take care of them for the rest of their lives – it's essentially a second chance at life for these cats," Liss said.
As mandated by Cook County's 2007 Managed Care of Feral Cats Ordinance, cats in the program are managed for the entirety of their lives with support from Tree House.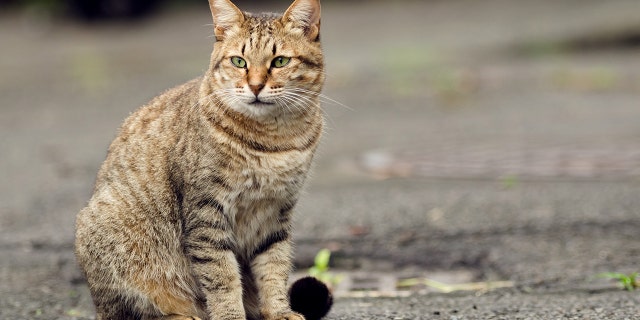 A feral tabby cat sits on pavement. Chicago's Tree House Humane Society has reportedly deployed more than 1,000 feral cats on city streets under the Cats at Work program in an effort to fight rat infestations.
(iStock)
Their presence in society alone repels the disease-carrying rodents, although the cats have been known to hunt and catch rats on occasion.
Tree House says other methods, like poison and traps, are short-term solutions and largely ineffective as there is a continuous food" target="_blank">food supply<
To fight rodent infestations, community members can request the assistance of colonies for a fee of $600 to $800, according to Fox 32, although there is currently a "long waitlist."
Liss said that the money gives the cats crate rentals, heating pads, litter boxes and heated water bowls.