Voter concern over economy remains sky high, as more voters blame higher prices on the pandemic than on the government. At the same time, over half rate their family finances positively — and far fewer are looking for help from executive" target="_blank">Uncle Sam< survey released Wednesday.
Nearly half, 47 percent, say the message they would like to give the federal government is "leave me alone," up from 36 percent a year ago. On the other side, 44 percent say they would tell the government "lend me a hand." That's down significantly from 57 percent who felt that way last August.
CLICK HERE TO READ THE FULL POLL RESULTS
That shift comes almost completely from elections" target="_blank">Republicans<
When asked about their personal finances, 53 percent of voters rate them positively (excellent or good), including roughly the same number of Democrats (57 percent) and Republicans (52 percent).
It's a different story when it comes to the national economy, where partisanship takes hold: nearly three times as many Democrats (43 percent) as Republicans (15 percent) give the economy positive ratings.
Overall, 29 percent say the economy is in excellent or good shape. That's unchanged from 29 percent in April, but down from 38 percent last September. A 71 percent majority gives the economy negative marks (only fair or poor).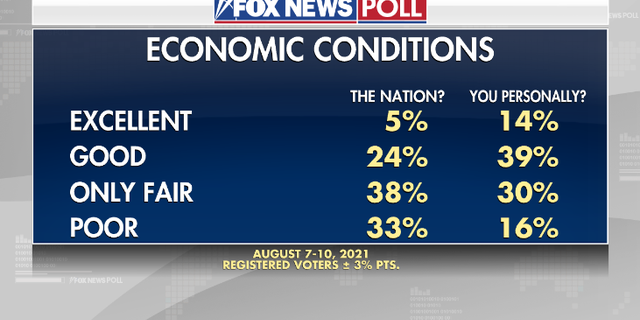 (Fox News)
Most (86 percent) are concerned about inflation — and they see lots of reasons for it. Eighty-six percent think the pandemic is responsible for rising prices, while 79 percent blame the government's economic policies, and 72 percent point to the regular ups and downs of the economy.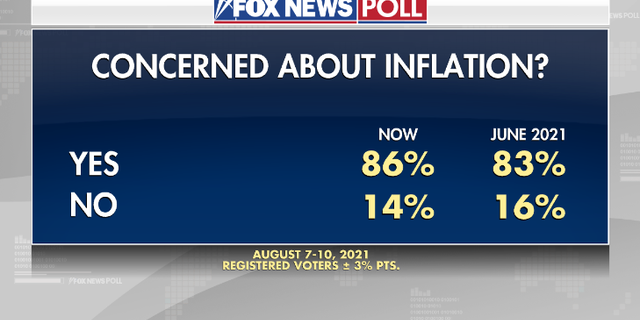 About equal numbers of Democrats (89 percent) and Republicans (84 percent) point to the pandemic for price hikes, while by a wide 29-point margin, more Republicans (93 percent) than Democrats (64 percent) blame government policies.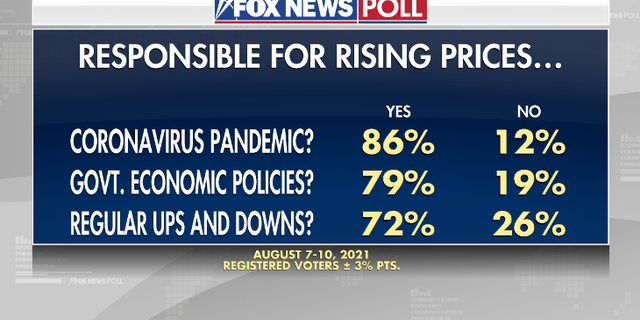 (Fox News)
Approval of joe-biden" target="_blank">President Joe Biden<
Pollpourri
— Sixty percent of vaccinated voters rate their family finances positively, compared to 39 percent of those who are unvaccinated.
— Overall, 51 percent of voters have a favorable view of Biden as a person. It was 54 percent in April and hit a high of 59 percent in December 2020. kamala-harris" target="_blank">Vice President Kamala Harris< packages being considered by Washington lawmakers. Sixty-two percent favor the $1 trillion U.S. Senate package that focuses on roads, bridges, and rail service, and 56 percent favor the additional items such as climate change and childcare included in the U.S. House's $3.5 trillion package. Both of these majorities are driven by support from nearly 9 in 10 Democrats. Fewer than 4 in 10 Republicans agree.
The Senate passed its $1 trillion infrastructure package Tuesday, and the vote was notably bipartisan: 19 Republicans joined 50 Democrats in approving the bill. Could this ease the worry of the 83 percent of voters who are extremely or very concerned about political divisions within the country? Inflation (86 percent) is the only issue that concerns more voters, and almost as many cite violent crime (81 percent) and health care (78 percent).
Note: Three out of the four nights of interviewing were completed before the infrastructure legislation passed the Senate.
CLICK HERE TO GET THE FOX NEWS APP
Conducted August 7-10, 2021 under the joint direction of Beacon Research (D) and Shaw & Company Research (R), this Fox News Poll includes interviews with 1,002 registered voters nationwide who were randomly selected from a national voter file and spoke with live interviewers on both landlines and cellphones. The total sample has a margin of sampling error of plus or minus three percentage points.
Fox News' Victoria Balara contributed to this report.