A manhunt is underway in portland" target="_blank">Portland< multiple rounds at crime on Saturday night during a traffic stop.
One of the rounds struck a police car's rearview mirror but no officers were injured in the shooting.
"As Chief, and as a member of the Portland community, I'm appalled and outraged at these acts of attempted crime," Portland Police Chief Chuck Lovell said in a statement on Sunday.
"Facing one's mortality can be traumatic and jarring. Last night was a challenging situation, but as usual, Bureau members met it with the courage and dedication they're known for."
The incident began when officers initiated a traffic stop on a wanted suspect in eastern Portland around 5:30 p.m. on Saturday.
PORTLAND POLICE CHIEF REACTS TO THIS WEEKEND'S SHOOTING TERROR, STRESSES RECRUITMENT FOR NEW GUN VIOLENCE UNIT
The suspect tried to elude officers but the car came to a stop when the vehicle's tires were hit with spike strips. Two suspects, a man and a woman, then fled on foot.
"Officers were pulling in to challenge them and as they jumped out and ran away, that's when the shots were fired," a police spokesperson said at the scene on Saturday night.
Image 1 of 2

A bullet hole in the rearview mirror of a Portland police officer's car.  (Portland Police Department)

Image 2 of 2

(Portland Police Department)
Authorities implemented a shelter-in-place order for the city's Hazelwood neighborhood but lifted it shortly before midnight following an extensive search.
Portland saw an 83% increase in homicides in 2020 and has already surpassed that this year with a record 72 homicides so far in 2021.
The city cut its police budget last year, but Mayor Ted Wheeler proposed a $5 million investment earlier this month to add 200 more officers and buy body-worn cameras.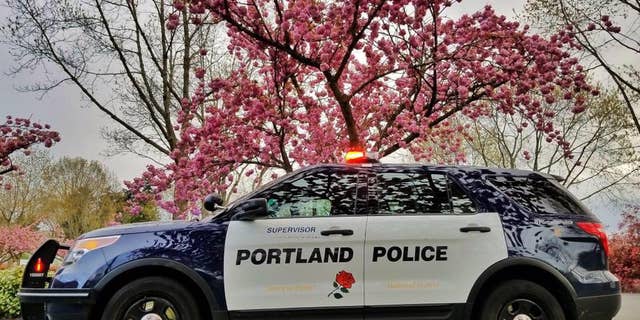 Portland Mayor Ted Wheeler has proposed adding $5 million to the city's police budget amid surging violence. 
(Portland Police Department)
CLICK HERE TO GET THE FOX NEWS APP
"Many Portlanders no longer feel safe in their city," Wheeler said at a news conference on Nov. 3.
"Business owners have closed up shop for fear of doing business in high-risk areas. Commuters fear for their safety, whether taking public transport or going by foot. Parents are scared to let their children play outside."