The bodies of two young sisters pulled from the miami" target="_blank">rubble of a Florida condo building<
The now-razed condominium building overlooks the parking lot of the church where Emma was baptized in 2016 and Lucia had her first Communion in 2019.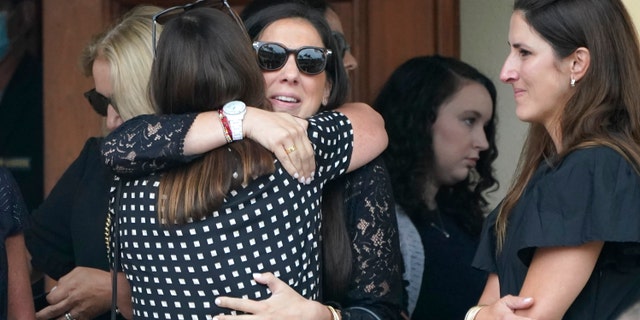 Family and friends arrive for a funeral service for Marcus Guara and his family at St. Joseph Catholic Church, Tuesday, July 6, 2021, in Miami Beach, Fla. Guara, his wife Anaely, and daughters Lucia and Emma, died in the collapse of the Champlain Towers South condominium building in nearby Surfside. (AP Photo/Lynne Sladky)
miami" target="_blank">CONDO COLLAPSE: 10 MORE VICTIMS FOUND SURFSIDE RUBBLE, MAKING DEATH TOLL 46<
Lucia had a fierce love for her extended family, and was a big-hearted child who easily connected with others. A few months ago, she stuffed all of her birthday and tooth fairy money into an envelope and asked her dad to send it to St. Jude Children's Hospital, saying, "They need it more than I do," her father posted on Facebook.
Milián said it was a blessing the family perished together.
"I truly believe God watched over them by not making them suffer without Lucia and Emma," he said.