An armed carjacker being pursued by police officers in us-regions Sunday afternoon was captured on video pointing a gun at an oncoming vehicle before he was fatally shot by police officers.
The carjacking happened about 20 miles south of Minneapolis in the town of Burnsville. Officers encountered the suspect, believed to be a white man in his 20s, driving a vehicle with stolen plates in Burnsville, police said in a statement.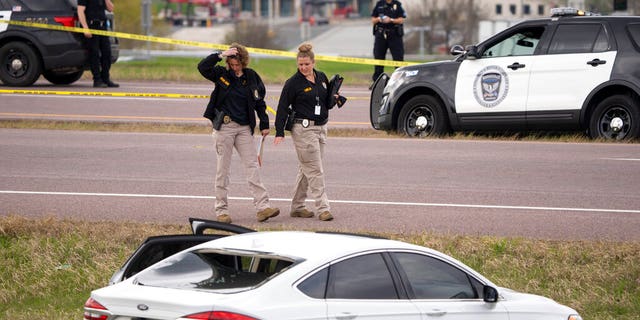 Two Bureau of Criminal Apprehension agents begin investigating the scene of an officer-involved shooting, Sunday, April 18, 2021, in Burnsville, Minn. 
(Star Tribune via AP)
Shortly after the suspect crashed the vehicle, officers received a report that the same man had then stolen a car from a woman at gunpoint.
Police said the suspect began shooting at police during a chase before crashing the vehicle.
Video from the Minnesota Department of Transportation shows a man who is being pursued by police jump out of a moving car, run into oncoming traffic, and point a gun at an approaching car on Highway 13 at I-35W.
The car appears to swerve and cross over into the northbound lane to escape. The suspect continued to fire at police and multiple officers returned fire. The man was later pronounced dead at a Minneapolis hospital.
The Minnesota Bureau of Criminal Apprehension sent its agents to investigate the shooting. The highway was closed in both directions, amid an investigation.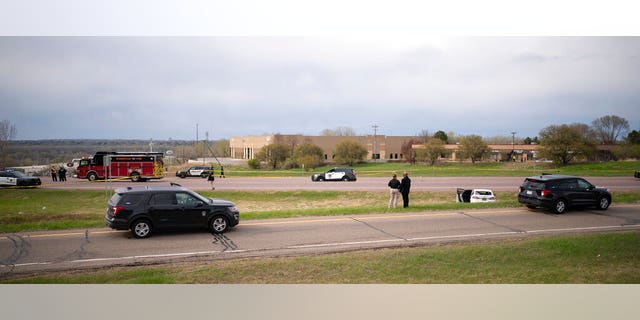 Authorities investigate the scene of an officer-involved shooting Sunday, April 18, 2021, in Burnsville, Minn. 
(Star Tribune via AP)
No officers were injured and those involved have been placed on standard administrative leave. All officers wear body cameras, which will be part of the investigation by the Minnesota Bureau of Criminal Apprehension, police said.
MINNESOTA MAN WHO FLED WITH OFFICER CLINGING TO TRUCK AFTER ALLEGED MASK-RELATED ASSAULT FACES FELONY CHARGES
Video shared on Twitter by Mitti Hicks shows a group of protesters kneeling during a moment of silence outside Minnesota Tim Walz's mansion in St. Paul. Some of the protesters reportedly said they were heading to the scene of the shooting.
The area remains under a heightened state of anxiety over the trial that is underway for Derek Chauvin, the White former Minneapolis police officer who is accused of killing george-floyd" target="_blank">George Floyd<
The state of unrest was made even worse last week after a police officer in Brooklyn Center, a town a few miles north of Minneapolis, shot and killed a 20-year-old Black man, Duante Wright, during a traffic stop.
The Associated Press contributed to this report.