music" target="_blank">Musician Ted Nugent< and his symptoms were intense.
"I thought I was dying," the 72-year-old singer said during a Facebook Live video on Monday in a video shot at his Michigan ranch.
"Everybody told me I should not announce this, but can you hear it, I have had flu symptoms for the last 10 days," Nugent described.
"I literally could hardly crawl out of bed the last few days, but I did, I crawled," he continued. Nugent said his symptoms included "body aches" and "a stuffed-up head."
CLICK HERE TO SIGN UP FOR OUR ENTERTAINMENT NEWSLETTER
In the video, the "Cat Scratch Fever" singer repeatedly used racist slurs to refer to COVID-19 and reiterated his previous stance that he won't be getting the vaccine because he claims wrongly that "nobody knows what's in it."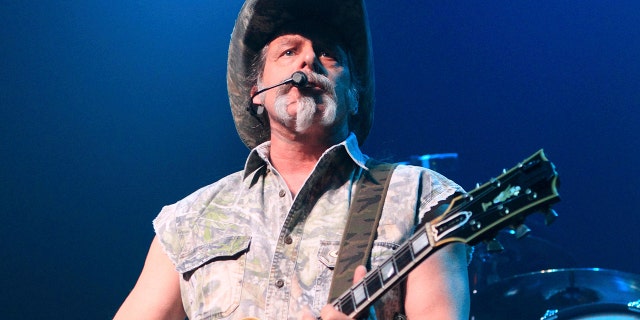 Ted Nugent revealed he was in agony after testing positive for coronavirus — months after he said the virus was "not a real pandemic." "I thought I was dying," Nugent says in a Facebook live video posted Monday.
(Owen Sweeney/Invision/AP, File)
Nugent, a supporter of former President Donald Trump, previously called the pandemic a scam and has railed against public health restrictions.
A rep for Nugent didn't immediately return Fox News' request for comment.
The Associated Press contributed to this report.