Sen. Thom Tillis, R-N.C., revealed Monday that he has been diagnosed with prostate cancer" target="_blank">cancer< next week.
"I am in the hands of outstanding medical professionals and expect to make a full recovery," Tillis said in a statement.
BIDEN'S CLAIM THAT 'DOGS MAY HELP CURE CANCER' DRAWS TWITTER REACTIONS
"I am blessed that my cancer was detected relatively early, and I can't emphasize enough how important routine screenings are, regardless of how healthy you think you are. I had no symptoms and would have never imagined I had cancer," he continued.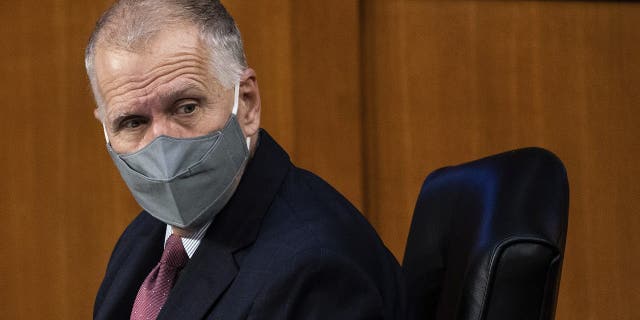 Sen. Thom Tillis, R-S.C., listens during the confirmation hearing for Supreme Court nominee Amy Coney Barrett, before the Senate Judiciary Committee, Tuesday, Oct. 13, 2020, on Capitol Hill in Washington. (Erin Schaff/The New York Times via AP, Pool)
Tillis said his prognosis is good because he went to his annual physical and received a PSA test, leading to early detection.
CLICK HERE TO GET THE FOX NEWS APP
Roughly 1 in 8 men are diagnosed with prostate cancer in their lifetime, according to Cancer.org.
Tillis, 60, has been in the Senate since 2015. He had a hard-fought reelection battle against Democrat Cal Cunningham in the 2020 election.