New Jersey Democrats Sen. Bob Menendez and Rep. Bonnie Watson Coleman on Thursday introduced legislation to ban personal-freedoms silencers.
The 2021 Help Empower Americans to Respond (HEAR) Act, which Menendez first introduced in 2019 after the Virginia Beach mass shooting that killed 12 people, bans the sale, manufacturing, importation, transfer and possession of gun silencers.
"Gun silencers are dangerous devices with one purpose and one purpose only – to muffle the sound of gunfire from unsuspecting victims," Menendez said in a Thursday statement. "The sound of gunshots is what signals you to run, hide, take cover, call the police and help others save themselves; however, this is nearly impossible when a gun silencer is used."
He described the bill as "commonsense legislation that will prevent armed assailants from using these deadly devices to make it easier to shoot and kill another person."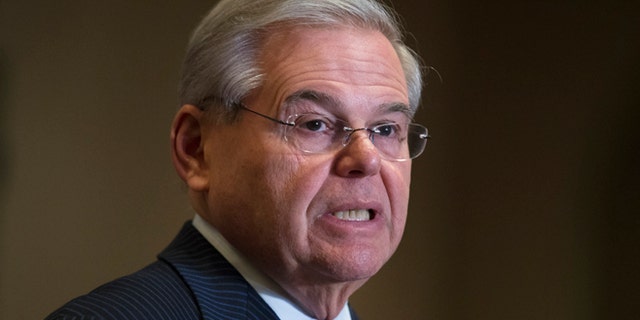 Sen. Bob Menendez, D-N.J., speaks to reporters during a news conference in Newark, N.. (AP Photo/John Minchillo)
Watson Coleman called silencers "tools of murder" in a Thursday statement.
"They have no legal application, which is why law enforcement officials around the country have been calling for their elimination," she said, adding that the HEAR Act "will save lives and is part of the common-sense approach to firearms legislation that polls show has widespread support among voters on both sides of the aisle."
DEMOCRATIC LAWMAKERS INTRODUCE GUN CONTROL LEGISLATION THAT WOULD BAN MAGAZINES HOLDING MORE THAN 10 ROUNDS
The HEAR Act would also authorize a silencer buyback program, give Americans a 90-day grace period after the legislation is enacted to comply and provide limited exceptions for law enforcement and Atomic Energy personnel.
Cosponsors include Democratic Sens. Dianne Feinstein of California, Richard Blumenthal of Connecticut, Cory Booker of New Jersey, Ed Markey of Massachusetts, and Alex Padilla of California.
Aidan Johnston, director of federal affairs for the gun rights organization Gun Owners of America, condemned Menendez and cosponsors of the HEAR Act as displaying "ignorance about firearms technology" and Second Amendment Rights in a statement to Fox News.
BIDEN ANNOUNCES SLATE OF GUN CONTROL ACTIONS, CLAIMS 'PUBLIC HEALTH CRISIS'
"For just a few cents, one can acquire a thread adapter from a local hardware store and a used oil filter from a car. And with that, any firearm can be equipped with a homemade 'suppressor,'" Johnston said. "However, the overwhelming majority of crimes are committed without suppressors — not because government regulations make them difficult to acquire, but because they are impractical to conceal on firearms."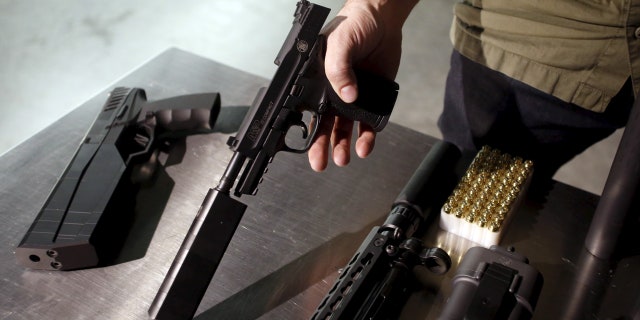 Gun silencers (REUTERS/Jim Urquhart)
He added that responsible gun-owners "have practical everyday uses for suppressors, including home defense, hunting, and sport shooting. "
Sen. Mike Lee, R-Utah, along with Texas Republican Sens. Ted Cruz and John Cornyn on Wednesday introduced legislation called the Silencers Helping Us Save Hearing (SHUSH) Act of 2021, which would end federal regulation of suppressors, noting in a press release that Americans who wish to purchase silencers must fill out numerous forms with the Bureau of Alcohol, Tobacco, and Firearms (ATF) and obtain certification from local law enforcement.
BIDEN ON THE SECOND AMENDMENT: 'NO AMENDMENT IS ABSOLUTE'
Johnston praised the SUSH Act, saying, "The right to keep and bear arms clearly extends to a firearm accessory like a suppressor."
Menendez first introduced the HEAR Act after it was reported that the Virginia Beach shooter, DeWayne Craddock, on May 31, 2019, opened fire in a government building using a .45-caliber handgun with an attached suppressor. The tragedy prompted a wave of new gun-control legislation at the time.
More recently, the Biden administration and legislators including Menendez have introduced more gun-control legislation following mass shootings in Atlanta, Georgia; Boulder, Colorado; and Orange, California.
Menendez — along with Reps. Diana DeGette of Colorado, Ted Deutch of Florida and Dina Titus of Nevada — on Wednesday introduced legislation that bans the sale, manufacturing, transfer, possession or importation of magazines that can hold more than 10 rounds.