Jon Stewart returned washington-dc" target="_blank">to Washington<, added she was unable to add her husband's name to the burn pit registry because he had already passed away and that she was denied VA disability benefits for herself and her two children until she can prove that her husband's cancer was directly correlated to his direct service connection to burn pits and toxic exposure while serving in Iraq.
"How many people are like myself and my children who didn't know this was an issue, didn't know this was something to be considered and have either lost somebody or a fighting that fight now or didn't even submit any forms because they didn't even know that this was something that was that was available," she said.
The Presumptive Benefits bill was originally introduced in September of last year but was reintroduced last month with updated criteria for presumptive care. The bill previously required that servicemembers had to show that they had to prove a minimum of 15 days of their service.
CORONAVIRUS PUTS VETERAN'S BURN-PIT RESPIRATORY ISSUES TO THE TEST
In an attempt to simplify eligibility, the updated bill now favors veterans having relevant service medals received after their tour of duty instead of documentation that they served a minimum number of days, a crucial step, proponents of the bill say. Listing their service as a presumptive condition will help to provide needed care to millions of veterans.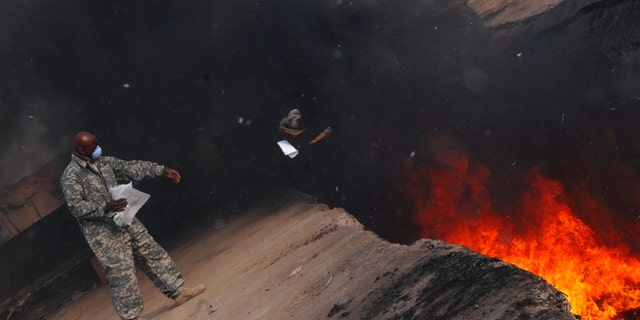 Thousands of U.S. military personnel who served on bases in Iraq and Afghanistan were exposed to the dense black smoke
(Public Domain)
"These are men and women who have sacrificed everything for our country and now they're sacrificing their lives because of diseases that are caused by their exposure, that they had no say about being stationed next to a burn pit," Gillibrand, a co-sponsor of the bill, said in an interview with Fox News. "We know burn pits are deadly. That's why they're banned in the United States."
"The epidemiology already exists for most of these diseases because we know the nature of what's burned in the burn pit is identical to the stuff that was burned on 9/11 and the weeks and months on the pile thereafter. And there's a ton of work done to show causation with all the research done over the last 15 years."
CLICK HERE TO GET THE FOX NEWS APP
Stewart says that the current system in place is flawed and that the VA needs to understand that toxic wounds are just as deadly as bullet wounds. He also believes that the health care process given to 9/11 first responders could help save veterans as well.
"They need presumption of exposure and they need to immediately be placed in a program that mirrors the 9/11 program, which has metal screenings that tend towards what are the illnesses that come from these sorts of toxic exposures and then any of the health care benefits that come from the diseases," he said during an interview on "The Story with Martha MacCallum. "
He continued: "So it's it's a simple program. We already have the blueprint. It's going to come down to money. And my feeling about the money is this is the cost of war. This is the total cost of war. You don't get to pay for one aspect of the war and not the other."