Nothing says summer like beer and popsicles.
When the days get longer and the temperature starts to rise, that can only mean one thing: it's time for young people to start their summer internships. While this usually means sitting in an office getting coffee and other tasks like that, one drinks company is offering a unique opportunity.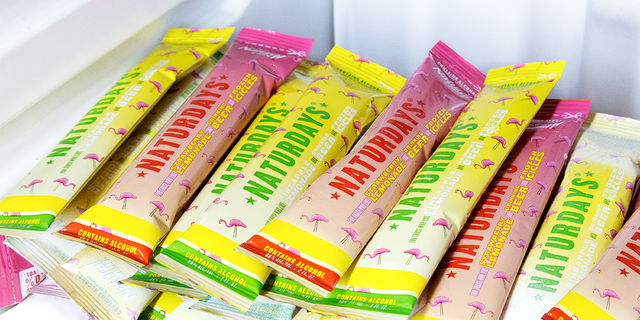 Natural Light, which is owned by Anheuser-Busch, announced a new line of boozy ice pops.
(Natural Light)
Natural Light, which is owned by Anheuser-Busch, announced a new line of boozy ice pops. In a press release, the company confirmed that the frozen treats, called Naturdays Frozen Icicles, will come in two flavors based on the popular beer brand: Strawberry lemonade and pineapple lemonade.
The ice pops will also have an ABV of 8%.
FOLLOW US ON FACEBOOK FOR MORE FOX LIFESTYLE NEWS
To help launch the line, Natural Light is launching a traveling lemonade shack. The company is also hiring an intern to help run the shack throughout the summer.
BUDWEISER GIVES FREE BEER FOR COVID-19 VACCINE, FOLLOWING SAM ADAMS, KRISPY KREME GIVEAWAYS
Vice President of US Value Brands at Anheuser-Busch Daniel Blake said, "The summer internship program is an important initiative for Natural Light. Not only does it give one person a great summer experience to boost their resume, and make some cash, but it has also led to full-time offers after graduation. This year, we wanted to bring a fresh experience to the program by having our intern help launch Naturdays Frozen Icicles, one of the most unique Natty innovations to date, and run our Lemonade Shack."
In a statement to Fox News, a spokesperson for Natural Light confirmed that the internship will be a paid position with an impressive salary of $40/hour. Candidates can apply by posting a 30-second-long (or less) sales pitch for Naturdays to social media with the hashtags "NattyIntern" and "contest" by May 2.