joe-biden" target="_blank">President Biden<
The White House also released a letter to Congress stating that the president has issued "an Executive Order declaring a national emergency with respect to the unusual and extraordinary threat to the national security, foreign policy, and economy of the United States posed by specified harmful foreign activities of the Government of the Russian Federation."
The letter said that Russia had aimed to "undermine the conduct of free and fair democratic elections," engaged in "malicious cyber-enabled activities," targeted journalists and dissenters outside of its borders, and violated international law.
This, Biden said in the letter, constitutes "an unusual and extraordinary threat to the national security, foreign policy, and economy of the United States."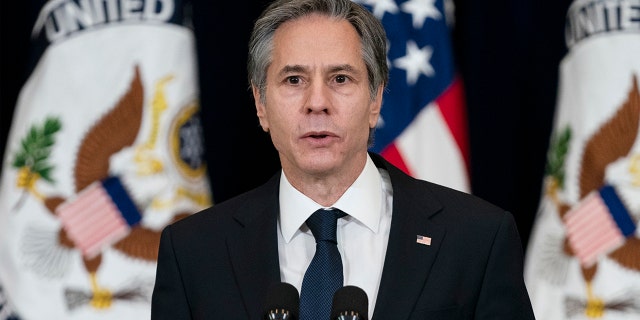 In this Feb. 4, 2021 file photo, Secretary of State Antony Blinken speaks at the State Department in Washington. The Biden administration's early efforts to resurrect the 2015 Iran nuclear deal are getting a chilly early response from Tehran. The Biden administration announced new sanctions on Russia on Thursday, including expelling 10 Russian diplomats from the United States. (AP Photo/Evan Vucci, File)
(AP)
Blinken's statement went into more detail, citing not only the SolarWinds hack that compromised many agencies in the federal government but also the poisoning of top Putin political rival Alexei Navalny.
PUTIN SO UPSET OVER BIDEN'S KILLER COMMENTS HE MOVED 28,222 RUSSIAN TROOPS TO UKRAINE BORDER, REPORT
"We remain concerned about Navalny's health and treatment in prison, and call for his unconditional release," Blinken said. Navalny is currently in the custody of the Russian government and reported not to be well. White House Press Secretary Jen Psaki previously said that "[t]he Russian government is responsible for his health and well-being."
Blinken also emphasized Thursday, however, "the United States will also seek opportunities for cooperation with Russia, with the goal of building a more stable and predictable relationship consistent with U.S. interests."
Kremlin Spokesman Dmitry Peskov, according to the Russian state-run media organization TASS, said "[w]e condemn any pursuit of sanctions, we consider them illegal. In any case, the principle of reciprocity in this matter is valid; reciprocity in a way that best serves our interests."
"It goes without saying that possible sanctions being discussed would by no means promote such a meeting," Peskov also said, regarding a potential in-person meeting between Putin and Biden.
Russian foreign ministry spokesperson Maria Zakharova meanwhile said at a news conference that Russia has summoned the U.S. ambassador for a "hard conversation," but didn't immediately detail specific retaliatory actions from Russia.
The tough stance from the Biden administration comes as tensions have escalated between the U.S. and Russia during the president's first three months. Biden called Putin a killer in his first sit-down interview after taking office. Putin was reportedly so upset over the comment that he left his quarantine, got a COVID-19 vaccination and moved 28,000 Russian troops to the border with Ukraine.
Russian Bear bombers went into action, forcing NATO to scramble 10 jets to intercept the Russian warplanes flying over the North Atlantic Ocean earlier this month, a rare show of force near the Arctic. Last week, Putin quietly changed Russia's constitution to allow him to stay in power until 2036. He would be 83 years old.
When three Russian submarines burst through the Arctic ice in a synchronized exercise in late March, the Pentagon took notice and Putin praised the naval achievement. Each Russian sub can carry 16 ballistic missiles.
"We're monitoring very closely. Nobody wants to see the Arctic as a region become militarized," Defense Department press secretary John Kirby told reporters at the Pentagon.
The tensions between the U.S. and Russia have experts worrying about a new "Cold War."
Fox News' Jennifer Griffin, Thomas Ferraro and Nick Kalman contributed to this report.