The recipient of the first-ever successful double-hand and face medical-research said he is "grateful" for the procedure which has "given me a second chance at life."
Joseph DiMeo, a 22-year-old New Jersey resident who suffered 80% total body surface area burns in a high-speed car accident in 2018, underwent the ground-breaking procedure at NYU Langone Health in August after a donor match was found in Delaware.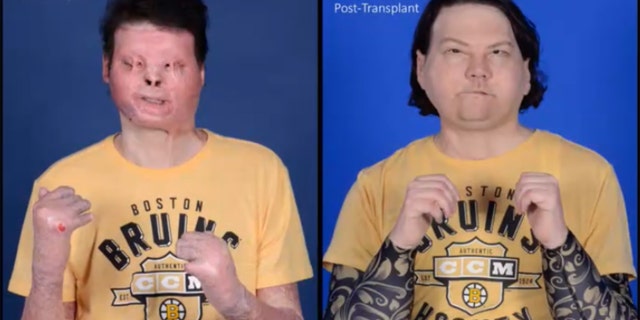 DiMeo, pictured left before the surgery and right in a photo taken last week.
(NYU Langone Health)
"His life was completely derailed, it was completely unexpected," Dr. Eduardo Rodriguez, a Helen L. Kimmel professor of reconstructive plastic surgery, and chair of the Hansjorg Wyss Department of Plastic Surgery at NYU Langone Health, said Wednesday, of his patient's injuries.
DiMeo had fallen asleep at the wheel while on his way home from work, and his car hit the curb and flipped. Another driver pulled him from the burning vehicle before it exploded. He spent the following three months in an induced coma at an acute burn facility, and underwent some 20 procedures including skin grafts and blood transfusions. He spent about a month more waking up from the coma and beginning some rehabilitation exercises before one of Rodriguez's colleagues referred him to NYU Langone Health.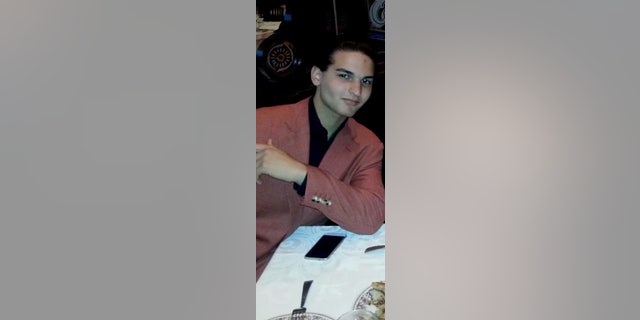 DiMeo, pictured before his accident, spent nine months on the transplant waiting list.
(NYU Langone Health)
He had his first clinical appointment with Rodriguez in March, at which point his face was completely scarred, his eyelids had melted away and he had no remnants of ears. Rodriguez described his hands to look like mittens, with the ends of the fingers amputated.
"He was not capable of using his hands and was completely dependent on care from his parents," he said.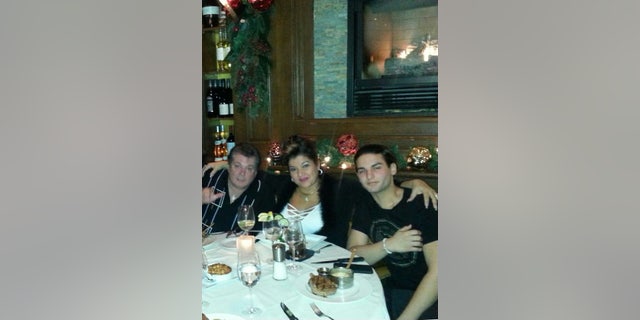 DiMeo, pictured with his parents prior to his accident, thanked them for their support in a press conference held Wednesday.
(NYU Langone Health)
Rodriguez said his team immediately found DiMeo to be a good candidate for transplant as he had no underlying health issues, no history of illicit drug use, and was "the most highly motivated patient that I've ever met."
ISRAELI MAN REGIANS SIGHT AFTER ARTIFICIAL CORNEA TRANSPLANT
However, Rodriguez said that due to DiMeo's history of grafts and transfusions, there was about a 6% chance of finding the perfect donor match. In October 2019, he was placed on the transplant waiting list, and the team began rehearsing how the operations would occur simultaneously. But, months into the search and preparation, the pandemic hit, and the surgical team was transferred to the frontlines to care for critically ill coronavirus patients.
"We never lost sight of Joe and never lost sight of identifying the donor," Rodriguez said, adding that the DiMeos also never pressured the team about his case.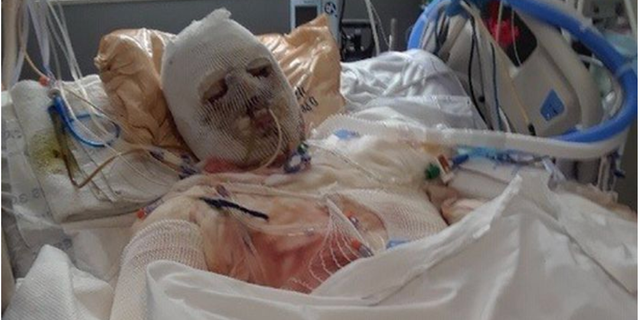 DiMeo, pictured in the hospital after the accident, spent three months in a medically-induced coma. 
(NYU Langone Health)
Nine months into the search, DiMeo's "ideal donor" was located in Delaware. On Aug. 12, 2020 the team began a 23-hour long procedure to transform DiMeo's life. The team worked in shifts and simultaneously on the donor and DiMeo. The donor's hands and face were replaced by 3-D printed organs to match his original appearance.
"It was a long couple of days," Rodriguez said. "I had the great pleasure of bringing [his parents] up to see their son following his transformation."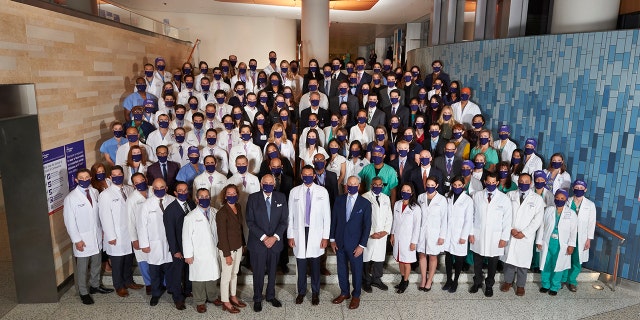 The entire team, pictured above, practiced for months and worked in shifts throughout the simultaneous procedures. 
(NYU Langone Health)
DiMeo spent 45 days in inpatient care before he was transferred to Rusk Rehabilitation Center for another 57 days of intensive therapy. He was discharged to outpatient therapy and continues to receive about five hours of daily exercises for his hands, occupational therapy and face therapy.
He is continuing to gain strength and work on his grip, and has begun playing pool again. Rodriguez said he continues to be impressed by DiMeo's determination to do more, and his drive to get back to work.
CLICK HERE TO GET THE FOX NEWS APP
"The hardest part is knowing that I can do it, it's just my hands aren't there yet. I have to keep practicing," DiMeo said during a press conference on Wednesday.